Articles
Image Annotation Outsourcing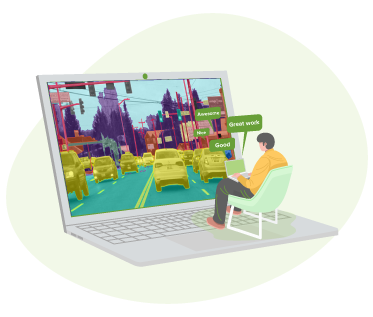 Image Annotation Outsourcing: A Step-by-Step Guide
May 14, 2023
Image annotation identifies and describes objects, buildings, people, and events in images. As a result, image annotation outsourcing is a rising trend among companies looking for cost-effective solutions to annotate their data. By outsourcing this process to experts in image annotation, you can reduce costs, save time and increase the quality of your dataset.
In this post, we will discuss image annotation outsourcing. What requirements? How does it differ from manual image annotation? What are some useful techniques for providing high-quality results? We'll also give tips on choosing the right platform.
Image Annotation Outsourcing - What is it?
An image annotation outsourcing service is a process that involves outsourcing image annotation work to a third party. It's an efficient way of getting the job done quickly and at a lower cost than doing it yourself.

There are various reasons to outsource your image annotation. Outsourcing is a smart choice if you're a business owner who needs to get an image annotation job done quickly and efficiently. It can save you time, money, and effort while ensuring the work is completed correctly.
Image Annotation Requirements and Image Annotation Techniques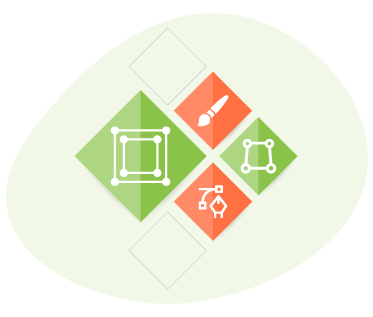 Image annotation is the process of labeling and describing every pixel in an image. It can be done manually or automatically, depending on your needs and budget. Image annotation has many applications in different industries, such as healthcare, law enforcement, and education.
The most common techniques used by image annotators are the following:
Lines and Splines
To delineate traffic lanes, routes, sidewalks, and other boundaries for using autonomous vehicles, drones, storing robot paths, etc.
2D Bounding Boxes
A 2D bounding box is a rectangle used to count and track objects in images, for example, in surveillance videos or aerial photos. Annotators draw the rectangle around an entire image of an object they intend to annotate.

Cuboid or 3D Bounding Boxes
3D bounding boxes provide a detailed analysis of an object's length, depth, and width.
Polygonal Image Segmentation
Annotators use polygon techniques to annotate irregular forms accurately. Polygons help to create a true shape representation, which provides an accurate outline of the form.

Skeletal or Key Points
To identify and annotate objects' motions, such as facial features in facial recognition, including characteristics, gestures, expressions, poses, and more.
Image Annotation Challenges
Image annotation is an important step in the image analysis process. It involves labeling images with relevant information that can be used to improve the performance of your AI model. However, doing it manually can be time-consuming and expensive, which is why many companies have started outsourcing this task to third-party providers.
However, there are several challenges when it comes to image annotation, including:

Errors
Manual annotation is prone to human error, even when performed by experts. Adding control tasks can reduce the number of errors.
Time and Costs
Labeling data elements, assembling extensive datasets, and compiling them in a format that uses for analysis can be time-consuming and expensive. Crowdsourcing and AI-assisted automated labeling serve as viable solutions for this problem.
Skills Gap
If a company lacks the necessary talent pool, one solution is to divide complex tasks into microtasks. In this approach, independent experts provide detailed instructions and control the results, while crowd contributors do the labeling.

Inconsistency
When cross-labeling datasets, multiple annotators may disagree on certain labels. Data scientists employ different aggregation techniques to ensure accuracy and consistency.

Subul offers a variety of tools for aggregating data, including classic categorical aggregation and advanced algorithms for every possible scenario, including pairwise comparisons and non-categorical text and image segmentation. Check out our blog to learn more about our image annotation services!
Benefits of Image Annotation Process Outsourcing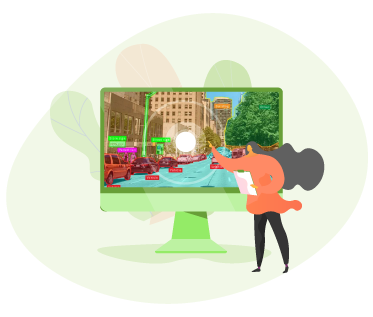 Image annotation outsourcing allows companies to outsource tasks to data and annotation services vendors comprising experts who collect and label raw data on their behalf from start to finish.

As experienced professionals, they know which methods work best for certain data types, how to annotate mass data, cleanly structured and semi-structured data, organize new sources of different dataset types, etc.

Some of the benefits include:

Time-saving
When you outsource image annotation, you're delegating repetitive tasks that take up a lot of time and resources to professionals specializing in these projects. Outsourcing also allows you to focus on core competencies while improving productivity at work!

Scalability
Scalability is one of the biggest benefits of outsourcing image annotation. The number of images that can be annotated is unlimited, and there are no limits to the number of annotators you can hire. In addition, it doesn't take long for an outsourced team to complete their work.

Compared with hiring a full-time employee or consultant who will spend hours on your project, outsourcing allows you to get more done in less time at a lower cost per hour spent working on your project.

High Data Quality
The biggest benefit of outsourcing your image annotation is that it helps ensure high data quality. High data quality is important because it helps improve the overall accuracy of the annotation process, which ultimately leads to better results.

Speed and Efficiency
The fourth benefit of outsourcing this process is speed and efficiency. When you hire a freelancer, they'll be able to complete the task much faster than you would be able to if you were doing it yourself.
Subul Defines the Future of Image Annotation Services Focusing on Social Responsibility.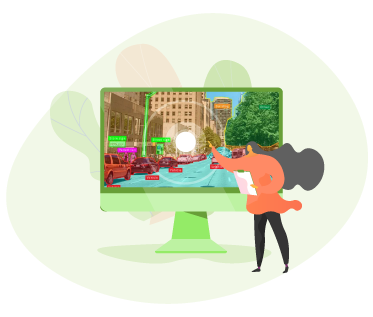 Subul is a social impact outsourcing agency redefining the future of image annotation services. We believe in doing good for the world and our customers by providing accurate, affordable, fast image recognition technology. Our mission is to help people see things better through advanced computer vision algorithms and human-powered annotation.
Not only this, we do this by providing a platform for refugees and disadvantaged people to connect with employers and find work. This empowers skilled workers to earn a fair income despite being deprived of local opportunities due to a conflict outside their control. We believe in long-term solutions that empower refugees to use their skills and forge a career.
Do you want to be a part of changing lives for the better? Hire Subul!